Family Health Center
Patients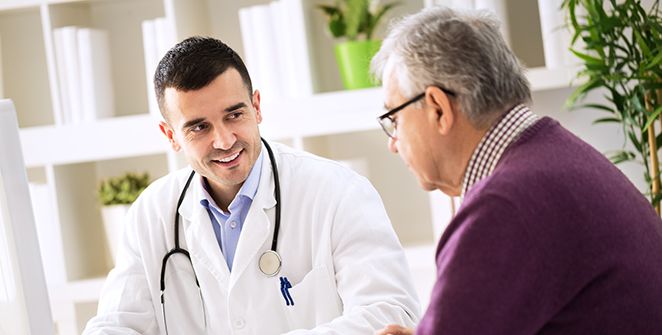 Family Health Center offers comprehensive care for patients of all ages. Our highly skilled physicians and staff provide "world class" health care for you and your family! We welcome new patients and can often accommodate same day appointments.
Office Hours/Appointments
Our regular office hours are Monday—Friday: 8AM–5PM. Visits are scheduled by appointment by calling (478) 633-5500 or by requesting an appointment on the patient portal.
If you are unable to keep your scheduled appointment, please call in advance and cancel. Patients who are late may need to be rescheduled for another time or date.
On Your First Visit Please Bring:
Current Medications
Information about your Medical History & online forms (if you have them)
Insurance Card
Medicare/Medicaid Card
Picture I.D.
Telephone Calls
Your telephone calls are important to us, and we try to return them as promptly as possible. All calls of a medical nature are reviewed by a nurse. Urgent calls are given priority. In order to provide the best assessment and care for your health, we generally do not diagnose or prescribe treatment by telephone.
After Hours, Weekend and Holiday Calls
If you or a family member becomes ill or is injured, call (478) 633-5500. Our answering service will assist you with calls received after hours of operation. Calls should only be made for health problems that cannot wait until normal business hours. It is our policy not to refill medicines or call in new prescriptions after hours.
If you feel your condition cannot wait on our physician to return your call, we recommend you go to an Urgent Care Center. At Urgent Care Center, Atrium Health Navicent, our physicians will have access to your health visit.
Urgent Care Center - Riverside Drive
340 Riverside Drive
31210
Phone:
(478) 474-5600
Hours of Operation: 8AM–8PM
Urgent Care Center - Gray Highway
1339 Gray Highwayb
31211b
Phone:
(478) 749-9200
Hours of Operation: 8AM–8PM
Urgent Care Center - Zebulon
5925 Zebulon Road
31210
Phone:
(478) 757-7865
Hours of Operation: 8AM–8PM
Emergency Care
If you feel you have a life threatening emergency, call 911 immediately!
Fees and Insurance
Payment is expected at your first visit. We participate in most major health plans, and we will be glad to file your insurance for your convenience.
Laboratory and x-ray services performed at other locations including The Medical Center, Navicent Health, will be billed separately. Professional readings and interpretations of diagnostic tests will be billed by Associated Pathologists or Radiology Associates.
Online Forms:
To ensure that your visit to our office is as convenient and efficient possible, we encourage you to download our convenient Patient Registration forms below, complete, print and bring them in with you when you come in.
New patients of Family Health Center, may complete the Medical Records Release Form provided and bring to your appointment. Otherwise you may also have your previous physician or other healthcare providers that treat you fax the records to our office.
Confidentiality
At Family Health Center we have a strict patient confidentiality policy. Your medical record is strictly private and will not be shared with your employer, friends, or relatives without your written permission.
---
Patient Rights:
The Patient has the Right to:
Considerate and respectful care.
Knowledge of the name of the physician who has primary responsibility for coordinating the care, and the names and professional relationships of other physicians and non-physicians who will see the patient.
Receive as much information about any proposed treatment or procedure as the patient may need in order to give informed consent or refuse this course of treatment. Except in emergencies, this information shall include a description of the procedure or treatment, the medically significant risks involved in this treatment, alternate courses of treatment or non-treatment and the risks involved in each and to know the names of the person who will carry out the procedure or treatment.
Participate in any decisions regarding medical care. To the extent permitted by the law, this includes the right to refuse treatment.
Full consideration of privacy concerning the medical care program. Case discussion, consultation, examination and treatment are confidential and should be conducted discreetly. The patient has the right to be advised as to the reason for the presence of any individual.
Confidential treatment of all communications and records pertaining to his care.
Reasonable continuity of care and to know in advance the time and location of appointment as well as the identity of persons providing the care.
Be advised if the physician proposes to engage in or perform human experimentation affecting care or treatment. The patient has the right to refuse to participate in such research projects.
Have all patient's rights apply to the person who may have legal responsibility to make decisions regarding medical care on behalf of the patient.
Have complaints forwarded to administrative personnel for appropriate response.
Know that all clinic personnel will observe these patient's rights.
Patient Responsibilities:
The care a patient receives depends partially on the patient himself. Therefore, in addition to these rights, a patient has certain responsibilities as well.
The patient has the responsibility to provide accurate and complete information concerning his present complaints, past medical history, and other matters relating to his health.
The patient is responsible for making it known whether he clearly comprehends the course of his medical treatment and what is expected of him.
The patient is responsible for following the treatment plan established by his physician, including the instructions of nurses and other health professionals as they carry out the physician's orders.
The patient is responsible for keeping appointment and for notifying the office or physician when he is unable to.
The patient is responsible for his actions should he refuse treatment or not follow his physician's orders.
The patient is responsible for assuring that the financial obligations of his care are fulfilled.
The patient is responsible for being considerate of the right of other patients and office personnel.