» Dr. Woodham
OB/GYN Residency
Padmashree "Champa" Chaudhury Woodham, MD, FACOG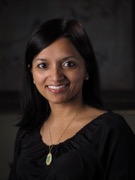 "Maternal-Fetal Medicine encompasses everything which inspires me to be a physician. I can use my knowledge in critical care medicine, ultrasound, and fetal therapy to take care of mothers and their babies in high risk pregnancies. I have the opportunity to create enduring therapeutic relationships with my patients as well as the privilege of playing an integral part in one of the most important transitions in a woman's life."- Dr. Padmashree C. Woodham.
Medical Background
Dr. Padmashree "Champa" Woodham joined the Department of Obstetrics & Gynecology at the Medical Center, Navicent Health as the Director of Maternal-Fetal Medicine in August 2012. After receiving a bachelor's degree from Emory University, Dr. Woodham attended Emory University School of Medicine to complete her MD, and remained at Emory to finish her Residency in the Department of Obstetrics and Gynecology. She then went on to complete a fellowship in Maternal-Fetal Medicine at the University of North Carolina at Chapel Hill. Dr. Woodham is board-certified in Obstetrics and Gynecology and Maternal-Fetal Medicine.
Clinical Interest
As a Maternal-Fetal Medicine specialist, Dr. Woodham's clinical interests include:
High-Risk Pregnancy Management and Consultations
Genetic Counseling and Testing
In-utero Procedures such as amniocentesis, chorionic villus sampling, amnioreduction, percutaneous cord blood sampling, intrauterine transfusion, and thoracoamniotic and vesicoamniotic shunts.
Surgical Procedures such as rescue cerclage, cesarean hysterectomy, and ex utero intrapartum treatment (EXIT)
Research Interest
Dr. Woodham's laboratory and clinical research experience includes work on:
Predictive markers of preeclampsia
Metabolomics of preeclampsia
Prediction of growth restriction in fetal gastroschisis
Individualized growth assessment in fetal gastroschisis
Perineal body length as a risk factor for anal sphincter injury
Additional Information
Dr. Woodham has received both teaching and research excellence awards, including the American College of Obstetricians and Gynecologists/ Council on Resident Education in OB/GYN National Faculty Award. She serves as a reviewer for the Journal of Perinatal Medicine, European Journal of Obstetrics and Gynecology and Reproductive Biology, Journal of Obstetrics and Gynaecology Research, Archives of Gynecology and Obstetrics, and Case Reports in Perinatal Medicine. She is a member ACOG, SMFM, AIUM, AMFMM, ISUOG, Georgia Ob/Gyn Society, and Bibb County Medical Society.