Addiction Medicine Fellowship
Welcome to Addiction Medicine Fellowship
Addiction Medicine Director's Message
Welcome to the Medical Center, Navicent Health Addiction Medicine Fellowship webpage. I've been a faculty member in the Family Medicine Residency here for 20 years. In 2018 I was thrilled to become the founding director of the Addiction Medicine Fellowship Program. Our program is evidence-based, with strong emphases in motivational interviewing, SBIRT (Screening, Brief Intervention and Referral to Treatment), MAT (medication assisted treatment), multidisciplinary collaboration (including mutual support groups), and facilitating long term recovery for those with alcohol or substance use disorders. You will have ample time to read deeply from the addiction medicine literature, as well as to provide comprehensive substance use assessments in a variety of settings, including the acute hospital, primary care office, and both inpatient and outpatient facilities of River Edge Behavioral Health, a leading provider of mental health and substance use services in Georgia. Our faculty, facilities and the range of substance use and related services offered to our patient are excellent. Nine years ago we created the Southeast Consortium for Substance Abuse Training, to increase provider capacity for management of unhealthy substance use throughout the Southeast, and our Addiction Medicine fellowship was the second fellowship in Georgia approved by the Addiction Medicine Foundation. You will learn the science and art of addiction medicine, as well as how to manage the mental health and social needs of patients and families dealing with the disease of addiction. Come and learn how to coordinate medical care for this fascinating and sometimes challenging group of patients. You will encounter no more grateful patients in your medical career than those you help along the road to recovery.
The fellowship program is open to all graduates of U.S. or Canadian residency programs, whether you are a new graduate or seasoned in practice. We strongly prefer to start all fellows on the 1st of July. All applications are handled by email to the following two addresses: seale.paul@navicenthealth.org and Jsims@river-edge.org. We are looking for one outstanding candidate for each academic year.
Feel free to contact me at any time. We look forward to your application and interview.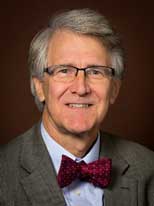 J. Paul Seale, MD, FAAFP, FASAM
Director of Research, Department of Family Medicine, Navicent Health
Director of the Navicent/River Edge Behavioral Health Addiction Medicine Fellowship
Professor of Family Medicine, Navicent Health & Mercer University School of Medicine
Diplomate of the American Boards of Family Medicine and Addiction Medicine

Phone: 478-633-0550
Email: seale.paul@navicenthealth.org