Pediatrics Residency Program
Teaching Conferences
Our teaching conferences are very important to our residents and our program as a whole. Residents are expected maintain 80% attendance.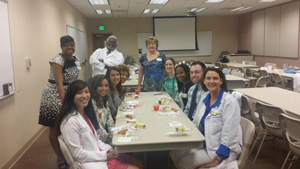 Board Review
Our board Review Series is a dedicated time for residents to prepare for the Pediatric Board Certification Exam.
Wednesdays from 11:00-1:30 (except Sim-Lab week). This is protected time for all residents.
All residents are expected to attend board review except on vacation or night shift.
The Baby Nelson's textbook, MedStudy Curriculum and Pediatrics in Review articles are used, and is covered over the course of each year by weighted material on the Board exam.
Multi-subject exams are given quarterly using Board style questions. (These are for monitoring educational progress only, and are not public).
The PREP curriculum is also provided to each resident every year, and is encouraged.
General Pediatrics Lectures
Generally 1-2 times per week, presented by general pediatric attendings.
Designed to provide detailed lectures on general pediatric topics, for example: newborn nursery, inpatient and outpatient experiences.
Over the course of residency all major topics are covered, some on more than one occasion.
July is dedicated to core lectures critical to incoming interns (fluid & electrolyte management, DKA, asthma exacerbations, newborn exam, time management, etc).
Grand Rounds
Occurs every Thursday. Attended by residents, attendings, private physicians, medical students, nurses, and anyone else interested in the topic for the week.
Presentations by guest speakers, as well as our own attendings (general & subspecialty).
Each 3rd year resident presents once at Grand Rounds.
Journal Club
Held on the first Monday of each rotation and is led by residents with an attending facilitator.
The resident reviews medical literature about a specific topic and presents an article of his/her choosing, with subsequent group discussion.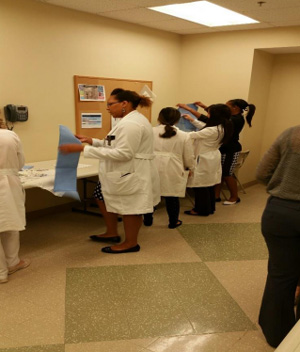 Resident Administrative Meeting
Occurs after each rotation, and includes only residents and directed by the chief residents.
"Closed door" fashion where resident opinions remain anonymous from attendings and administrators, etc.
Simulation Lab
State of the art Sim-Lab prepares residents for CPR and leading code simulations, as well as practicing procedures, including lumbar punctures, placing IVs and IOs, intubations, and others.
Scheduled on the third Wednesday of each rotation.
During July and August, residents are scheduled for extra Sim-Lab time, focusing on life support and being prepared for code simulations.
Subspecialty Lectures
Generally 1-2 times per week, and presented by our Subspecialty attendings.
Each subspecialist lectures throughout residency so that all major topics are covered.
Weekly Review
Case presentation by a resident, with discussion facilitated by an attending. This resembles "Morning Report".
The resident prepares a PowerPoint that covers the case, as well as a short teaching section on the disease / management related to the case.
This is well attended by medical students, residents and Faculty.
Occurs every Friday, and each resident presents 2-3 cases per year.
PGY-3 residents present an Ethical topic that allows for discussion.