Navicent Health Baldwin
A Place for Women: Prenatal Services
A Special Class for You and Your Family
Whether you'e a first-time mom or not, we offer childbirth education/lactation classes to answer your questions about pregnancy, childbirth, breastfeeding and infant care. Your partner or other family member is also welcome to attend. Please call (478) 454-3760 to register.
Pre-Registration
It is important that you pre-register with the hospital before your baby's birth. This convenient service allows us to prepare for your "big day" by collecting health and insurance information ahead of time so you can experience your delivery without excessive paperwork. Please bring your insurance card and photo ID as early as possible to the Registration Department located in Park Tower.
Financial Arrangements
We can help you determine your financial responsibility, including your applicable deductible, co-pays and non-covered (co-insurance) amounts based upon the benefits quoted by your insurance carrier. Please check with your insurance carrier to be sure your policy covers maternity care and that your insurance company has Navicent Health Baldwin listed as one of their preferred providers. We have contracts with many of the major insurance companies. However, NHB is not a Blue Cross HMO provider.
Pre-delivery maternity contracts are also available for patients with no maternity benefits or patients with no insurance. For your convenience, payment plans are available if you do not have maternity benefits. We also offer a substantial reduction to those with no insurance when your bill is paid prior to delivery. To further assist you, we have a government insurance representative available on site. Please contact our patient financial counselor at (478) 457-2121 for more information or to make an appointment.
Labor and Delivery
Choose a Pediatrician
During your admission, you will be asked to provide the name of your chosen pediatrician so we may notify him or her as soon as your baby is born. If your pediatrician or family practice physician is not on staff at Navicent Health Baldwin, your new baby will be cared for by our on-call pediatrician during your stay. Upon discharge, we will need the name and phone number of the pediatrician or family practice physician you will use for follow-up care. This will be placed in the baby's medical record.
Should your infant develop complications or require special needs after delivery, we have a contract and transfer agreement with The Medical Center, Navicent Health. This agreement provides us with access to their neonatology doctors and neonatal transport team if needed.
What to Bring to the Hospital on your Special Day
Because babies have a timetable of their own, we suggest you have an overnight bag packed and ready well in advance of your due date. Some of the items you may want to bring include:
Nightgowns, underwear, a nursing bra or tight-fitting bra (if not breastfeeding);
A comfortable robe and slippers;
Personal items, such as a special pillow or blanket;
Toothbrush, toothpaste, shampoo, brush, comb, razor, and cosmetics;
A comfortable outfit for you and your baby to wear home;
Important phone numbers and information, such as your social security number;
An approved infant car seat. Please know how to install your car seat in your car. Our staff is not permitted to install or set up car seats. Remember, an approved car seat is required by Georgia Law.
Camera, cell phone, charger, etc.
Please do not bring any personal electrical equipment that has a broken plug, frayed cord or is not in good working order.
When to Come to the Hospital
When you think you are in labor or your water breaks, call your physician immediately. He or she will notify us to prepare for your arrival. When you get to the hospital, you may use either the hospital's main entrance or the Emergency Treatment Center entrance, if needed. All of the maternity services are located on the third floor of the hospital.
Upon your arrival, you will be greeted by our staff and escorted to your Labor-Delivery-Recovery room where your labor will be assessed. It is best to discuss in advance with your physician who you would like present during your labor and birth. Family and friends are welcome to wait in our comfortable, spacious waiting area.
Maternity Care in Our Labor-Delivery-Recovery Rooms
Our private Labor-Delivery-Recovery (LDR) rooms offer comfort and luxury, along with the latest medical technologies and skilled medical teams.
With our one-room birthing experience, your labor, delivery and recovery will be coordinated and take place within the same private, comfortable room. Each room is equipped with state-of-the-art medical equipment and is beautifully appointed with a home-like decor. The LDR room provides a safe, warm and loving environment where the family can relax and bond with your new baby.
Should your physician determine that a cesarean birth is needed, our fully equipped and dedicated cesarean surgical room is located directly below the LDR rooms. Whenever possible, we encourage your support person to accompany you to the operating room. We realize that each birth, no matter the circumstance, is important and exciting, however, we permit only ONE support person in the operating room with you. Your nurse will be able to help getting everyone ready.
Anesthesia Services
Long before delivery, you and your physician should discuss the various anesthesia options available to you for childbirth. Complete anesthesia services are available to you throughout your labor.
Photography and Videotaping
Still photographs of the birth and the newborn after delivery are permitted. No videotaping is permitted in the cesarean surgical suite. Please check with your physicians and nurses during labor for more information.
Your Baby's First Lullaby
As part of our dedication to making your birth a memorable experience, we have a birthday chime that plays throughout the hospital whenever a baby is born.
After Delivery Mother and Baby Care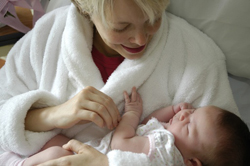 In keeping with our philosophy of family-centered maternity care, you may have your baby with you in your room throughout your entire hospital stay. Our skilled maternal-newborn nursing staff will be available to evaluate and care for your newborn during those times you prefer to rest. Our nursery is equipped with a state-of-the-art infant security system. Your baby's doctor will want to see the baby in the main nursery for just a short period of time each day. After the doctor's visit, the baby will be returned to your room and the pediatrician will give you a progress report.
There are several tests performed on your baby prior to discharge. We participate with the State of Georgia and screen for hearing problems. We also do universal bilirubin (jaundice) screening on every baby before discharge and collect blood for state required metabolic screening (PKU) tests. Should any follow-up be needed on any test results, you will be given instructions for care by the nurse or your pediatrician.
Breastfeeding Support Program
Because of the many health benefits breastfeeding has for both you and your baby, we strongly encourage and support breastfeeding at Navicent Health Baldwin. Our hospital has an International Board Certified Lactation Consultant and nurses trained in breastfeeding support to help assist you and teach you the skills you need to have a successful breastfeeding experience. After discharge, moms may contact our Breastfeeding Support Program at (478) 457-2352 or (478) 454-3760 for help with breastfeeding or to schedule a visit with the lactation consultant.
Birth Certificate
A birth certificate packet must be completed and returned to our Health Information Department for all infants born in the hospital or infants brought to the hospital immediately following birth. We encourage you to provide all the information needed and complete the paternity affidavit (if necessary) prior to leaving the hospital. A member of our staff is always available to assist you. Please give the packet to your nurse on the day of discharge.
Visiting Hours
Recognizing the importance of bonding with your newborn, ONE support person of your choosing is welcome to stay overnight with you.
Our staff encourages family and close friends to visit, however, proper rest for both you and your baby is important. We ask that visitors come between 9 a.m. and 9:00 p.m. We strongly recommend that only healthy children and adults visit. Individuals with colds, flu or any communicable illness are strongly discouraged from coming to the hospital.
Going Home
Your obstetrician and pediatrician will determine the best time for you and your baby to go home. Once you have been discharged, your nurse will provide you with discharge and follow-up care instructions. You will receive a copy of these instructions and any other assistance you may need.
New Mother Inn
Sometimes, your pediatrician decides that it is necessary for your baby to remain in the hospital for further treatment after you have been discharged by your obstetrician. We understand how anxious you and your family may feel upon receiving this unexpected news. We are pleased to offer you the opportunity to remain in the hospital in our New Mother Inn to be near your infant. Please ask your nurse for details.
As your baby grows, so will your relationship with us
Our hospital offers many services to care for your child from birth to adolescence. Our Pediatrics unit is located on the 4th floor of the hospital and features a cheery ocean theme for our young patients. A fully equipped playroom stocked with toys and books offers a pleasant diversion for children who need to be hospitalized.
We're here for you
The maternal-newborn staff at Navicent Health Baldwin is committed to making your birthing experience a joyful and memorable one. If there is anything we can do, please give us a call. We are here for you 24 hours a day, seven days a week.
We look forward to sharing the arrival of your new baby with you and your family.
Congratulations, once again!