Navicent Health Baldwin
List of Services
List of Medical Services Available from Oconee Regional Medical Center and its Affiliates
821 North Cobb Street
Milledgeville, GA  31061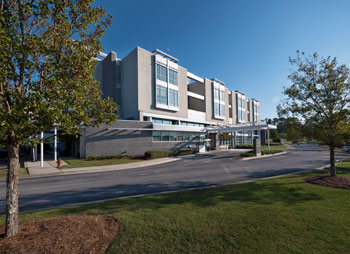 Digital Mammography
Installed in early 2010, digital mammography is different from conventional mammography in how the image of the breast is acquired and, more importantly, viewed. The radiologist can magnify the images, increase or decrease the contrast and invert the black and white values while reading the images. These features allow the radiologist to evaluate micro-calcifications and focus on areas of concern.
Emergency Treatment Center
Our Emergency Treatment Center is open 24 hours a day, 7 days a week to provide emergency medical care for those who are sick or injured in the hospital's seven-county service area. The facility is equipped to provide state-of-the-art emergency medical care and is supported by Operating Suites and surgical staff, as well as an Intensive Care Unit. The Emergency Treatment Center is newly renovated and includes a 4,157-square-foot addition that features a larger waiting room, private triage and registration areas and 5 additional beds. It has been recognized as one of the top Emergency Treatment Centers in the nation.
Lithotripsy Unit
This service utilizes a lithotripter which pulverizes kidney stones in the body using ultrasound.
Occupational Therapy
Our Occupational Therapy services assists patents in regaining their daily living skills. We treat inpatients and outpatients who have been injured or disabled. These services include assisting patients with the following conditions:
Stroke
Fractures
Head injury
Difficulty with self-care
Difficulty with feeding
Decreased strength and endurance
Decreased coordination
Needing adaptive equipment or splints
Needing positioning and an adaptive environment
Outpatient Diagnostic Testing
These diagnostic tests don't require admission into the hospital (CT scans, MRI, lab and radiology procedures).
Pathology
Many different kinds of tests are performed in out pathology lab to assist doctors in determining the nature of medical problems of patients and how they can best be treated.
Pediatric Care Unit
ORMC Pediatric Unit is located on the 4th floor of the hospital and features a cheery ocean theme for our young patients. A fully equipped playroom stocked with toys and books offers a pleasant diversion for children who need to be hospitalized. Our Pediatrics unit is staffed by some of the best healthcare providers in pediatric care and our dedicated team is committed to delivering safe and appropriate care to your child. As part of our commitment, ORMC Pediatric Staff works in partnership with patients and their families to provide a safe and satisfying experience during their visit. In order to make your child's hospital visit as pleasant as possible, we have prepared this information handout which will answer many of the questions you have.
Visiting Hours:
For your child's security, we require that a parent or other close relative stay with each child. The child feels more secure and responds better to the strange environment when a familiar person is in attendance. This person must be 18 years of age if not the child's parent. Please do not allow other siblings to stay with you and your sick children.
Visiting hours are over at 9 p.m. After the visitors leave, the parent and child can begin to settle down for bedtime. We provide a lounge-a-chair (reclines into a bed) upon which the parent can sleep.
To prevent the children from contacting other illnesses, visiting in other patient rooms with other children is not allowed.
We ask that you encourage your visitors to adhere to the visiting hours and that you have only two visitors at a time.
If small children do visit, they must be free of colds or other illnesses and be kept within your room. These visiting children are not allowed to play in the halls or in the play area provided for our patients. This is for their protection as well as other patients. Small children, who are visiting, may not spend the night.
Food:
We will provide formula, juices, baby food, and baby cereals that are on hospital formulary- please ask. Trays will come from dietary. Before bringing in food from outside the hospital, check with the nurse about the child's diet. Please inform us if your child has any food allergies or food dislikes. A dietician is available to assist in meal planning for your child relative to your child's food dislikes.
One courtesy tray per meal will be provided for the adult staying in your room.
Physical Therapy
Our Physical Therapy Department is staffed with certified physical therapists and offers a wide variety of services. We treat inpatients and outpatients who have been injured or disabled. Our services include: Physical Therapy: (rehabilitation services)
Hip replacement
Knee replacement
Arthritis
Fractures
Balance problems
Gait problems
Coordination problems
Delayed milestones
Stroke
Post Anesthesia Care Unit
In the PACU, nurses and the anesthesiologist monitor a patient's condition very closely for a few hours to make sure he/she is making a smooth and comfortable transition from an anesthetized state to an awakened state.
Pulmonary function tests are a group of tests that measure how well the lungs take in and release air and how well they move gases such as oxygen from the atmosphere into the body's circulation.
This service offers diagnostic and therapeutic modalities under the direction of radiologists.
Where: You will report to the Radiology registration area on the 1st floor of Cobb Tower or the main registration area on the 1st floor of Park Tower, Oconee Regional Medical Center with your doctor's order. If you have an early morning appointment you may want to register the day before. Please report to registration 30 minutes prior to your scheduled appointment time. Purpose: To determine tumor localization
Preparation: PET scans require a careful preparation, so please follow the prep instructions carefully.
All diabetics should discuss the preparations with their doctor.
24 hours prior to your appointment

The patient should refrain from consuming any caffeine

12 hours prior to your appointment

The patient should eat a light dinner the night before the exam - this should be a high fat, high protein, no carbohydrate diet and avoid sugars.
The patient should not engage in any strenuous exercise, and not chew gum.

4 hours prior to your appointment

Do not eat anything. Do not take any diabetic medication (insulin or pills) 4 hours prior to test.
Diabetics that have a glucose level >200mg/dl should not be injected before consulting a physician.

Procedure: Your blood glucose level will be checked. Then, you will receive a small injection of a radioactive tracer 18 FDG. The tracker will be allowed to circulate for approximately 60 minutes. You will then be placed on the scanner and images will be taken.
After Care: Resume your normal activities.
The radiologist's report of the results will be sent to your doctor. Your doctor will discuss the results of the test with you.
Please call (478) 454-3816 (nuclear medicine) if you have additional questions.
Radiation Oncology
This service uses radiation techniques to treat abnormal cell of tissue growth such as cancer.
Respiratory Care
This service provides care for common respiratory disorders such as bronchitis, asthma, emphysema and pneumonia.
Speech Therapy
Our Speech Therapy services treat both inpatients and outpatients who have been injured or disabled. Our Speech Therapy services include assisting patients with the following conditions:
Recovering from stroke
Being moved from tube to oral feedings
Communication problems
Understanding or following commands
Swallowing
Loss of weight
Delayed speech
Choking or coughing while swallowing
Altered speech
Telemetry Unit
This service provides continuous cardiac monitoring for patients who require this special type of care.