Family Medicine Residency
About Us
I bring you greetings from the fascinating Family Medicine Residency Program of The Medical Center, Navicent Health/Mercer University School of Medicine. Since our inception in 1972, we have trained more than 270 family physicians. Our graduates are accomplished physicians in their communities. Surgeon General of the United States, Dr. Regina Bingaman, National Medical Association's 2013 Practitioner of the Year Award recipient Dr. Warren Hutchings, and numerous other community leaders are products of this stellar training program. The committed, dedicated, and highly qualified faculty and staff of this program create an environment conducive to learning and service with fellowship and fun.
We strive for excellence in all we do here. Our goal is to grow and develop the residents as well as our faculty and staff. Continued education is strongly encouraged for everyone. While technically a community based program, we are a community-university hybrid that combines the best of both settings. This provides the advantages of being an integral part of an U.S. News and World Report Best Hospital and having access to world class libraries and facilities in addition to opportunities for international learning experiences.
Our main training facility is the Family Health Center, soon to be a Level 3 Patient Centered Medical Home. The Family Health Center is where our residents see their continuity patients, have didactic learning sessions, are able to become competent in several outpatient procedures, co-lead behavioral health sessions for their patients, and have the opportunity to participate in clinical research. The residents and core faculty practice side by side in the center on teams, sharing the same facilities and patient population.
The residents and faculty in our program are an academically excellent and culturally diverse group, with the common goal of providing stellar medical care with the highest quality of service to the patient while providing a culture rich for training top notch Family Medicine residents.
Some examples:
Our interns rotate not only on traditional Pediatric and Obstetric rotations, but on a novel Peripartum Care rotation, during which they are able to follow the maternal-infant dyad.
Our upper level residents progress through a longitudinal curriculum designed to allow maximum exposure to case follow-through on subspecialty rotations such as dermatology, cardiology, and neurology. Residents are thus able to follow patients from initial diagnosis, through workup, treatment and follow- up care.
Our residents are trained in an integrative approach to medical care of the whole patient. We include programmed didactic instruction in mind-body aspects of behavioral medicine, the risks and benefits of herbal and dietary supplement use, as well as exposure to alternative systems used by their patients.
Our residents enjoy the status of "Clinical Instructor" at the Mercer University School of Medicine. This not only reflects the teaching role our residents have, but also confers the privileges associated with faculty rank, such as use of the Mercer recreation facilities and library services.
In short, this Family Medicine program offers a dynamic learning environment with an exciting curriculum. We hope you enjoy your visit to our web site. Feel free to leave comments and do not hesitate to ask questions by either email or phone. We look forward to hearing from you!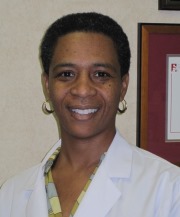 Y. Monique Davis-Smith, MD, FAAFP
Residency Directory
Department of Family Medicine