Peach County Hospital Celebrates Fifth Year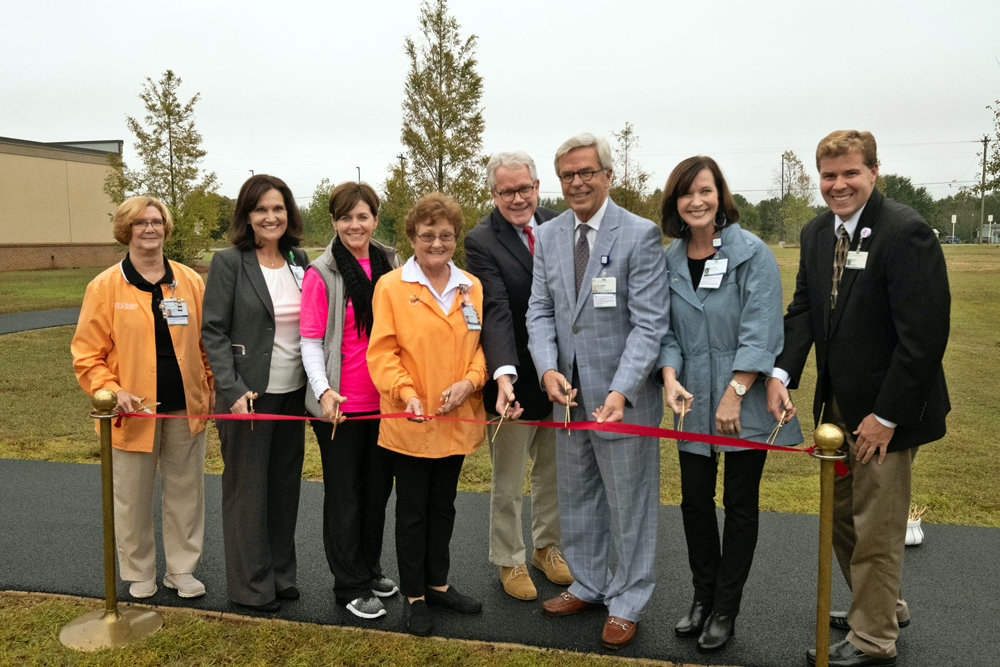 Celebrants Also Open New Community Walking Track
MACON, GA (Tuesday, October 30, 2018) – In 2013, Peach County celebrated a historic day that many had awaited for almost a decade. On July 16, 2013 patients began receiving care at Medical Center of Peach County, Navicent Health (MCPC), the area's new hospital facility located at 1960 Highway 247 Connector in Byron. The new hospital was created in partnership between Peach Regional Medical Center and Navicent Health.
Since 2013, MCPC has provided access to a new, modern, 25-bed hospital complete with a larger emergency center and an operating room suite, expanded outpatient services and all-private rooms. MCPC has become an integral part of the Peach County community, offering wellness events, free screenings for U.S. military veterans, and an annual road race that has become a local spring tradition.
"We are thrilled to celebrate our fifth year as part of this community, and mark the many achievements the hospital has made in such a brief time. From numerous quality awards to lab accreditation, Medical Center of Peach County is thriving and setting the standard for community hospitals. This is no small feat in today's healthcare environment, and is a testament to the dedication of our staff, and the support of our community," said Dr. Ninfa M. Saunders, President and CEO of Navicent Health.
A celebration Friday evening provided an opportunity for those who had supported Peach County's dream of building a new hospital to gather and celebrate MCPC's fifth anniversary, and the many successes and milestones that came along the way.
"The construction of the new hospital was an exciting time for the Peach County community and for everyone who supported Peach Regional Medical Center's goal of building a new hospital to provide state-of-the-art care for our area. We are thrilled that, after so many years of dedicated labor and the generous financial support of local donors, the dream of a new hospital for Peach County became a reality," said Tom Green, Chair of MCPC's Board of Directors.
On Friday, thanks to the continued support of area donors, MCPC celebrated the opening of a new walking track, complete with fitness equipment. The track is not only available for use for MCPC's patients, visitors and staff, but available to the community at large.
"We invite the residents of Peach County and the surrounding communities to visit us at MCPC and take advantage of this track. This is but one way we are trying to help people improve their health and wellness, and prevent illness and injury," said Laura Gentry, Chief Executive Officer for MCPC.
---
About Navicent Health
Navicent Health was incorporated on November 17, 1994, as a nonprofit corporation whose primary purpose is to coordinate The Medical Center, Navicent Health and other affiliated entities in their mission of providing a comprehensive continuum of high quality, reasonably priced healthcare services to the region. Navicent Health has 970 beds for medical, surgical, rehabilitation and hospice purposes. The health system includes The Medical Center, Navicent Health, a nationally recognized tertiary teaching hospital; Beverly Knight Olson Children's Hospital, Navicent Health, the region's only dedicated pediatric hospital; Navicent Health Baldwin and Medical Center of Peach County, Navicent Health, both rural hospitals; Rehabilitation Hospital, Navicent Health, the region's oldest and most experienced rehabilitation provider; Pine Pointe, Navicent Health, which provides palliative and hospice care in homes and in its facility; Carlyle Place, Navicent Health, the area's first continuing care retirement community; Navicent Health Foundation, the philanthropic arm of Navicent Health; as well as diagnostic and home care services. For more information, please visit www.navicenthealth.org.
---