Navicent Health Urges Safety, Caution During Monday's Solar Eclipse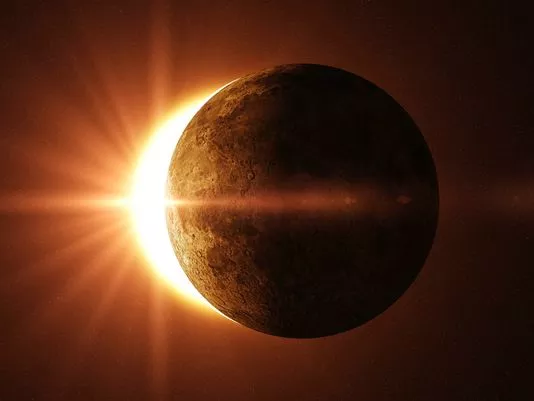 On Monday, August 21 counties within Navicent Health's service area will experience a partial solar eclipse from approximately 1:00 p.m. until approximately 4:00 p.m.
""It has been 99 years since a solar eclipse crossed the United States from coast to coast. This is monumental event and one we are excited to witness, but we urge residents in the communities we serve - as well as our staff, patients and their loved ones - to take proper safety precautions,"" said Steve Ramsey, Emergency Management Specialist with Navicent Health.
Looking directly into the sun, even during partial solar eclipse, is unsafe and can cause lifelong eye damage, including vision distortion and/or loss of central vision (solar retinopathy). According to the American Academy of Pediatrics, children are at increased risk for eye damage due to increased light sensitivity and ongoing eye development. Eye damage often occurs painlessly, so adults and children alike are often unaware if they are harming their eyes.
""The only safe way to look directly at the partial solar eclipse is through special purpose solar filters, such as eclipse glasses or handheld solar viewers. Homemade filters and ordinary sunglasses - even very dark ones - are not safe for looking at the sun,"" said Monali Sakhalkar, MD, ophthalmologist with Navicent Health.
Ramsey and Sakhalkar encourage Georgia residents to remember the following safety precautions:
It is only safe to look directly at the partial solar eclipse through eclipse glasses and solar filters verified to be compliant with ISO 12312-2 international safety standards.
Always inspect eclipse glasses and solar filters prior to use. If scratched, punctured, torn or otherwise damaged, discard the glasses or filter. They will be unsafe for use.
Always supervise children using eclipse glasses or solar filters to ensure they are used correctly.
Do not look at the sun through a camera, telescope, binoculars or any other optical device even while using eclipse glasses or a solar filter placed between the lens and the eye. The lens may cause concentrated solar rays to damage the filter and enter your eye(s), causing serious eye injury.
Solar filters may be attached to the front of a camera, binoculars, telescope or other optical device. Seek expert advice before attaching a solar filter to any such device.
If possible, avoid driving during the hours of the eclipse. If driving cannot be avoided, be mindful of your surroundings and take proper safety precautions.
For additional safety tips, please visit https://eclipse2017.nasa.gov/safety.
About Navicent Health
Navicent Health was incorporated on November 17, 1994, as a nonprofit corporation whose primary purpose is to coordinate the Medical Center, Navicent Health and other affiliated entities in their mission of providing a comprehensive continuum of high quality, reasonably priced healthcare services to the region. Navicent Health has 830 beds for medical, surgical, rehabilitation and hospice purposes. The health system includes The Medical Center, Navicent Health, a nationally recognized tertiary teaching hospital; Children's Hospital, Navicent Health, the region's only dedicated pediatric hospital; Medical Center of Peach County, Navicent Health, a rural critical access hospital; Rehabilitation Hospital, Navicent Health, the region's oldest and most experienced rehabilitation provider; Pine Pointe, Navicent Health, which provides palliative and hospice care in homes and in its facility; Carlyle Place, Navicent Health, the area's first continuing care retirement community; Navicent Health Foundation, the philanthropic arm of Navicent Health; as well as diagnostic and home care services. For more information, please visit www.navicenthealth.org.
---