Navicent Health Hospital Achieves StormReady Certification, Macon-Bibb Recertified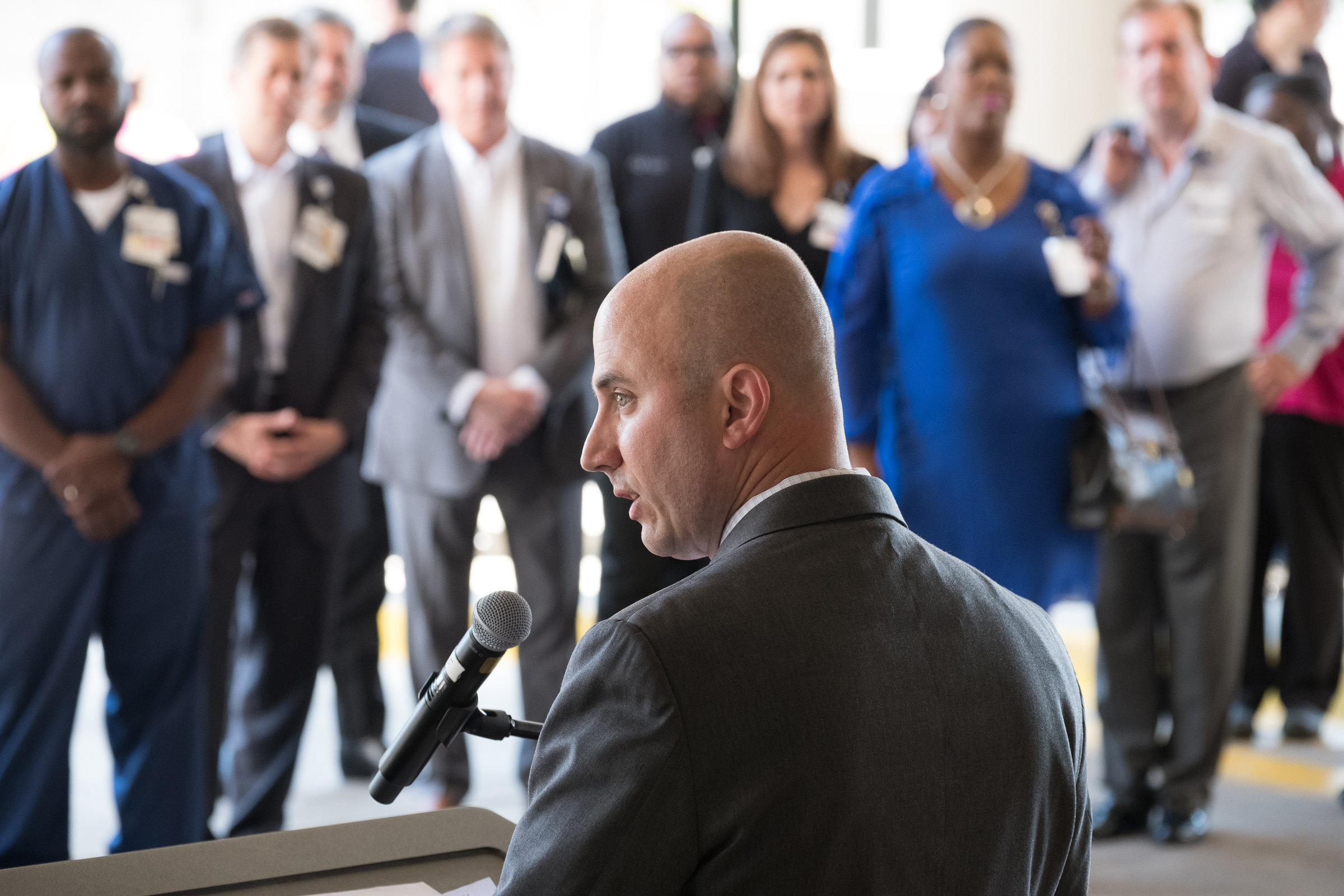 National Weather Service Verifies Preparations for Severe Weather Response
The Medical Center, Navicent Health (MCNH) has achieved StormReady certification from the National Weather Service (NWS), and Macon-Bibb County's StormReady certification has been renewed for another three years. MCNH is one of only three commercial sites in the state to achieve this certification.
""This is a verification of our capabilities, outreach programs, training, tools and resources needed to be prepared for severe weather and to respond,"" said Emergency Management Agency Director Spencer Hawkins.
According to the National Weather Service, StormReady organizations and communities are better prepared to save lives from the onslaught of severe weather through advanced planning, education and awareness.
""It is exciting to see the StormReady program grow across the country, especially in the public health communities. The Medical Center, Navicent Health has worked diligently on their weather preparedness capabilities. The patients and representatives of The Medical Center should be proud of accomplishing this important weather safety initiative,"" said David Nadler, Warning Coordination Meteorologist with National Weather Service.
""Our community relies on The Medical Center, Navicent Health to provide health and wellness care - including trauma and critical care - particularly during adverse situations like storms. We have taken measurable steps to ensure we are prepared to continue to provide healthcare services regardless of conditions, and certification by the National Weather Services verifies the quality of our prepatory work,"" said Steve Ramsey, Emergency Management & Safety Manager for Navicent Health.
In order to achieve and renew the certification, both Navicent Health and the Emergency Management Agency (EMA) conducted official visits of the NWS' Peachtree City Office, completed training, and have the Senior Service Hydrologist from the Peachtree office to review and certify our capabilities.
Stay connected with Macon-Bibb County EMA, receive weather safety tips and updates on severe weather by liking it on Facebook and following it on Twitter. You can also sign up for MBCAlert and receive emergency notifications by phone call, email, and text message by clicking here.
About Navicent Health
Navicent Health was incorporated on November 17, 1994, as a nonprofit corporation whose primary purpose is to coordinate The Medical Center, Navicent Health and other affiliated entities in their mission of providing a comprehensive continuum of high quality, reasonably priced healthcare services to the region. Navicent Health has 970 beds for medical, surgical, rehabilitation and hospice purposes. The health system includes The Medical Center, Navicent Health, a nationally recognized tertiary teaching hospital; Beverly Knight Olson Children's Hospital, Navicent Health, the region's only dedicated pediatric hospital; Navicent Health Baldwin and Medical Center of Peach County, Navicent Health, both rural hospitals; Rehabilitation Hospital, Navicent Health, the region's oldest and most experienced rehabilitation provider; Pine Pointe, Navicent Health, which provides palliative and hospice care in homes and in its facility; Carlyle Place, Navicent Health, the area's first continuing care retirement community; Navicent Health Foundation, the philanthropic arm of Navicent Health; as well as diagnostic and home care services. For more information, please visit www.navicenthealth.org.
---