Navicent Health Honored for Reducing Falls Through Predict, Prevent, Sustain Model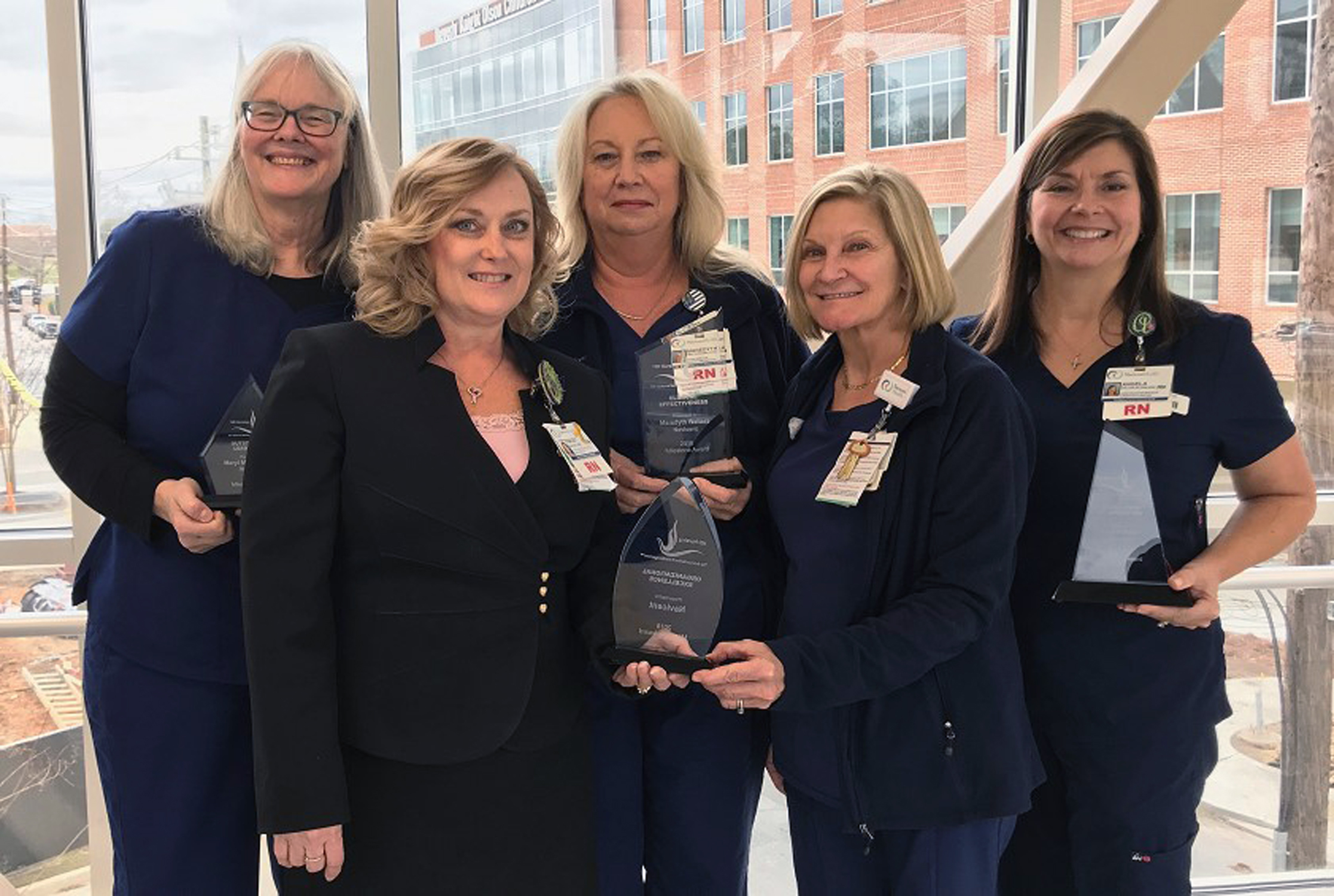 Navicent Health is pleased to announce that it has received HD Nursing's 2018 Milestone Award for ""Organizational Excellence."" In order to achieve this award, Navicent Health demonstrated a strong culture of safety and proven fall reduction, as well as a culture of servant leadership.
In 2018, Navicent Health implemented HD Nursing's Falls Program and the ""predict, prevent, sustain"" program model. Navicent Health demonstrated a 31 percent decline in anticipated physiologic falls and a 55 percent reduction in injury falls within six months of implementing the HD Nursing Falls Program.
""Navicent Health is committed to patient safety, and actively seeks new models in an effort to continuously improve the care we provide. By implementing HD Nursing's Falls Program, we are ensuring our patients remain safe while receiving high quality, patient centered care,"" said Tom Oliver, MD, Executive Vice President/Chief Operating Officer of Navicent Health Enterprise Clinical Systems.
In addition, Navicent Health was also recognized for its commitment to developing nursing leaders and supporting individual nursing growth through the HD Nursing Program. Four Navicent Health nurses received individual HD Nursing Awards, including the following:
Outstanding Leadership - Meryl Montgomery, RN, Nursing Professional Practice Coordinator
Clinical Effectiveness - Maredyth Walters, RN, Renal Care Nurse Director
Excellence In Education - Angela Walker, RN, Nurse Education Specialist
Building IT - Diane Bloodworth, RN, System Analyst with IS Clinical Applications
""Navicent Health is committed to developing nursing leaders to train the next generation of nurse. These four women are respected and recognized for their continued contributions to Navicent Health, and we are pleased that they are now recognized at the national level as well,"" said Tracey Blalock, RN, Chief Nursing Executive for Navicent Health.
HD Nursing is a national organization dedicated to improving falls and injury management across the continuum of care. HD Nursing provides individualized, evidence-based and validated falls management solutions program meeting best practice approaches for acute care falls management.
The HD Nursing Falls program uses the Hester Davis Scale for Falls Risk Assessment developed to predict anticipated falls in adult patients in a variety of settings. The HD Care Plan adjusts based on patient's real time condition. The Hester Davis Scale was developed over two years through research involving retrospective evaluation of patient characteristics of those patients who fell in our organization. The Hester Davis Scale continues to yield positive results for both facilities and patients.
About Navicent Health
Navicent Health, the leading provider of healthcare in central and south Georgia, is committed to its mission of elevating health and wellbeing through compassionate care. Providing more than 1,000 beds and offering care in 53 specialties at more than 50 facilities throughout the region, Navicent Health provides care for healthcare consumers' through an academic medical center; community, pediatric and rehabilitation hospitals; urgent care centers; physician practices; diagnostic centers; home health; hospice and palliative care; and a life plan community. Navicent Health is dedicated enhancing health and wellness for individuals throughout the region through nationally-recognized quality care, community health initiatives and collaborative partnerships. For more information, please visit www.navicenthealth.org.
---