Navicent Health Celebrates National Nurses Week by Awarding Outstanding Professionals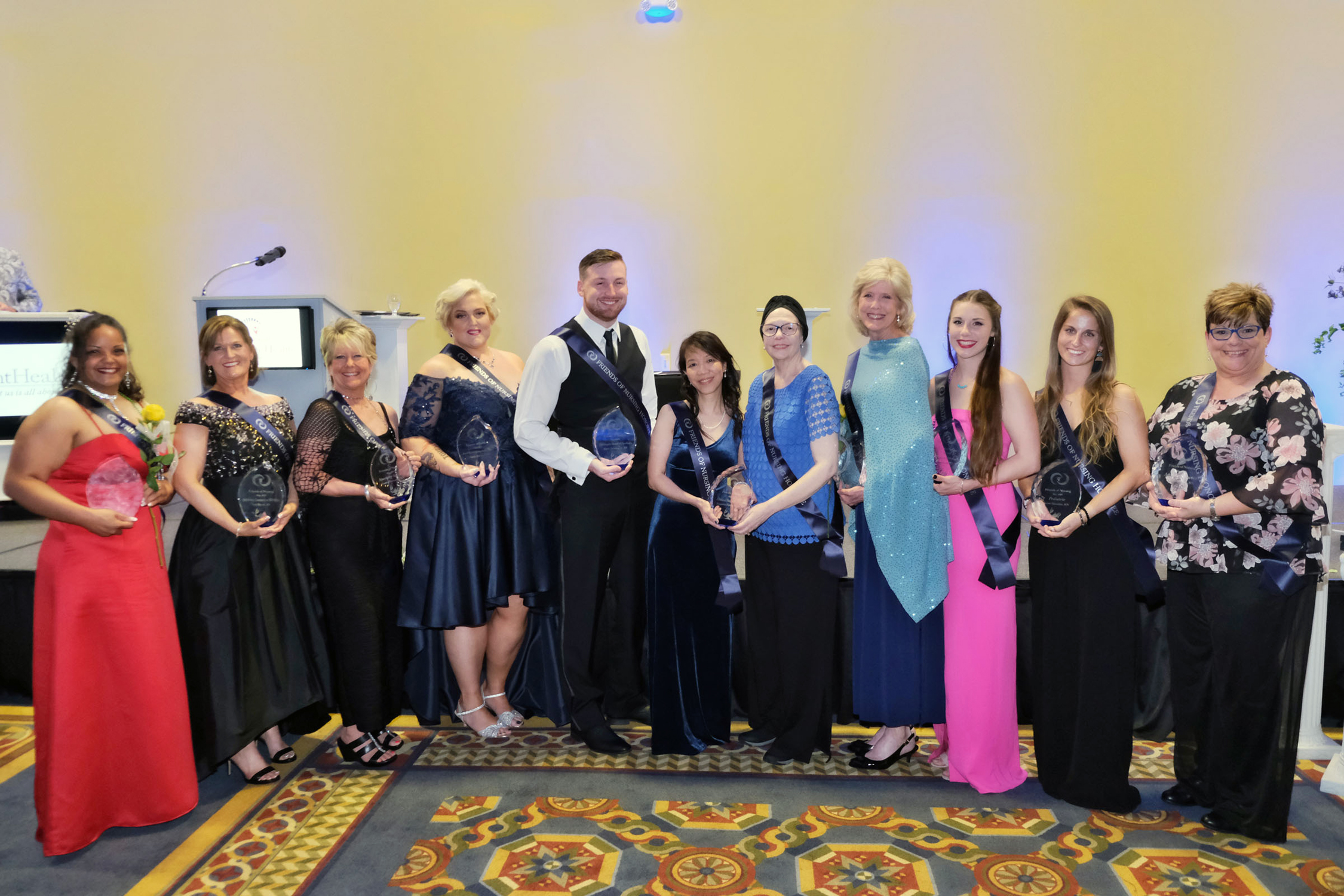 Week-Long Celebration Includes Awards Presentations to Exceptional Nurses
In recognition of National Nurses Week, May 6-12, Navicent Health has celebrated the contributions of its almost 2,300 nurses.
The week-long celebration culminated on Friday, May 10 with Navicent Health's fifth annual Friends of Nursing Gala. The evening of music and dancing also included the annual Nursing Excellence Awards.
Nurses were recognized in the following categories:
Excellence in Leadership - Sherry Haizlip, RN
Excellence in Advanced Practice - Deon Hutchison, RN
Excellence in General Medical / Surgical Care - Dottie Hester, RN
Excellence in Post-Acute Care - Ashley Barrett, LPN
Excellence in Ambulatory and Community Care - Terri Matula, RN
Excellence in Emergency and Critical Care - Sarah March, RN
Excellence in Pediatric Care - Kristi Sheridan, RN
Excellence in Clinical Support Services - Josephine Fabico-Dulin, RN
Excellence in Specialty Services - Tracey Thomason, RN
Barb Stickel Community Award - Mandy Pompa, LPN
Nightingale Award of Excellence - Mark Christmas, Jr., RN
Rising Star Award - Leigh Mills, LPN
Nursing comprises the nation's largest healthcare profession. Nurses must meet the varied healthcare needs of patients in a range of settings, and professional nursing is an indispensable component of safe, quality care for patients.
""As the healthcare industry shifts its focus to primary and preventative healthcare, the demand for registered nursing services will continue to grow, particularly when we consider the needs of an aging population. In the future, we will rely on nurses more than ever before for our healthcare needs. At Navicent Health, we have an extraordinary group of talented, compassionate nurses who are committed to ever-improving quality care. It is appropriate that we pause during National Nurses Week to recognize them for their many valuable contributions to healthcare, to our patients, and to our community,"" said Tracey Blalock, RN, MSN, Chief Nursing Executive for Navicent Health.
In 2015, the American Nurses Credentialing Center Magnet Recognition Program recognized Navicent Health with its third Magnet designation, placing Navicent Health in an elite group of only 130 hospitals worldwide to achieve three designations. The designation is a testament to the commitment of Navicent Health's nurses to excellence in quality patient care.
Annually, National Nurses Week begins on May 6, RN Recognition Day, and ends on May 12, the birthday of Florence Nightingale, who is recognized as the founder of the modern nursing profession.
About Navicent Health
Navicent Health, the leading provider of healthcare in central and south Georgia, is committed to its mission of elevating health and wellbeing through compassionate care. Providing more than 1,000 beds and offering care in 53 specialties at more than 50 facilities throughout the region, Navicent Health provides care for healthcare consumers' through an academic medical center; community, pediatric and rehabilitation hospitals; urgent care centers; physician practices; diagnostic centers; home health; hospice and palliative care; and a life plan community. Navicent Health is dedicated enhancing health and wellness for individuals throughout the region through nationally-recognized quality care, community health initiatives and collaborative partnerships. For more information, please visit www.navicenthealth.org.
---