Beverly Knight Olson Childrens Hospital, Navicent Health Celebrates Topping Off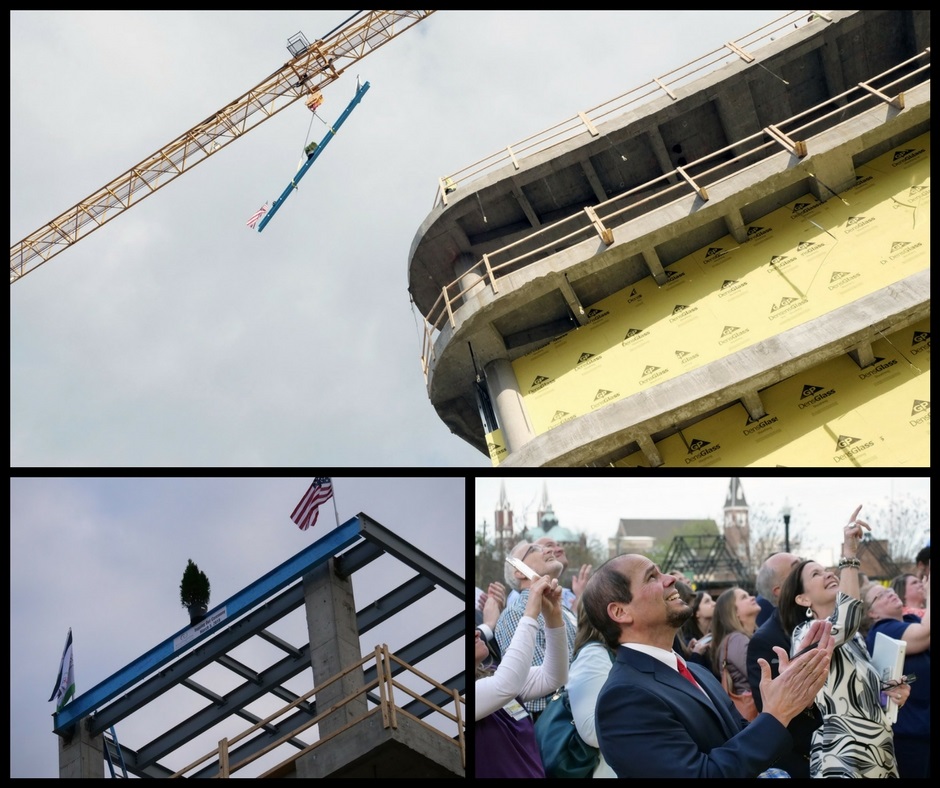 Final Steel Placed into Frame of New Children's Hospital
The region's pediatric patients and their families are one step closer to accessing the new, state-of-the-art Beverly Knight Olson Children's Hospital, Navicent Health. On Monday, March 5, Navicent Health joined with community stakeholders to celebrate a Topping Off Ceremony in which the final steel beam was installed into the new building's frame.
In June 2016, amid a climate that has seen a number of hospital closures and limited hospital expansion, Navicent Health announced its intent to construct a new Children's Hospital facility, with plans to begin serving the region's patients in 2019. With more than 45,000 visits projected annually, the state-of-the-art institution will attract new talent to Macon and serve as an important anchor in the community while contributing to downtown Macon's transformation and economic development.
""We are delighted to take this next symbolic step in the construction of Beverly Knight Olson Children's Hospital, Navicent Health. This step brings us closer to the promise of greater benefits to the children of central and south Georgia through the coordination of multiple pediatric services and specialities provided by caring professionals at the local level,"" said Dr. Ninfa M. Saunders, President and CEO of Navicent Health.
Since 1987, the nonprofit Children's Hospital, Navicent Health has been committed to enhancing the lives of children through excellence in patient care, research and education. The only dedicated pediatric facility in central Georgia, and one of the most comprehensive in the state, it provides care in general pediatrics, pediatric critical care, neonatal intensive care and outpatient services. The hospital also serves as the primary teaching site for the Department of Pediatrics at the Mercer University School of Medicine.
Due to a growing demand for additional service options, the hospital had outgrown its facility, constructed in 1962 and designed for adult healthcare. The new facility is currently under constuction in order to expand services in a hospital designed to meet the specific needs of children with illness or injury.
""Children are not small adults. Their health needs are different and are constantly changing,"" said Dr. Josh Glenn, the hospital's director of Pediatric Surgery. ""With a proven track record of providing excellent care, we are faced with the need to replace the current facility. We are committed to comprehensive, excellent care delivered by highly trained, board-certified pediatric physicians and clinical staff. We look forward to providing care in a new, world-class facility.""
The new Beverly Knight Olson Children's Hospital, Navicent Health is made possible through philanthropic support.
""Children's Hospital, Navicent Health has always relied on philanthropic support, and we are grateful to our donors for their commitment to Georgia's most fragile children. Each gift made to the Beverly Knight Olson Children's Hospital campaign will be an investment not only in the children of today, but for the generations to come. Whether it is a premature infant born at less than one pound or a teenager recovering from an automobile accident, donors make a significant difference in the lives of our precious children. My family and I have been pleased to support this wonderful organization for many years, and we invite our community to become a part of the growing legacy for children who have and will continue to depend on the specialized care provided by the Beverly Knight Olson Children's Hospital, Navicent Health,"" said Olson.
The construction of Beverly Knihg Olson Children's Hospital is one of a number of initiatives Navicent Health plans to undertake within the next five years in order to dramatically improve access to high-quality, reasonably-priced care within the region. The new hospital, to be built on the current site at 888 Pine St. in downtown Macon, will be a larger facility with the latest equipment and technologies.
In the attached photos - A crowd looks on as the crane lowers and places the final piece of steel into the frame of the new Beverly Knight Olson Children's Hospital, Navicent Health.
About Navicent Health
Navicent Health was incorporated on November 17, 1994, as a nonprofit corporation whose primary purpose is to coordinate The Medical Center, Navicent Health and other affiliated entities in their mission of providing a comprehensive continuum of high quality, reasonably priced healthcare services to the region. Navicent Health has 970 beds for medical, surgical, rehabilitation and hospice purposes. The health system includes The Medical Center, Navicent Health, a nationally recognized tertiary teaching hospital; Beverly Knight Olson Children's Hospital, Navicent Health, the region's only dedicated pediatric hospital; Navicent Health Baldwin and Medical Center of Peach County, Navicent Health, both rural critical access hospitals; Rehabilitation Hospital, Navicent Health, the region's oldest and most experienced rehabilitation provider; Pine Pointe, Navicent Health, which provides palliative and hospice care in homes and in its facility; Carlyle Place, Navicent Health, the area's first continuing care retirement community; Navicent Health Foundation, the philanthropic arm of Navicent Health; as well as diagnostic and home care services. For more information, please visit www.navicenthealth.org.
---