American Cancer Society and Presenting Sponsor, Navicent Health, Lead the Fight for a World Without Cancer Through Relay For Life of Bibb County Event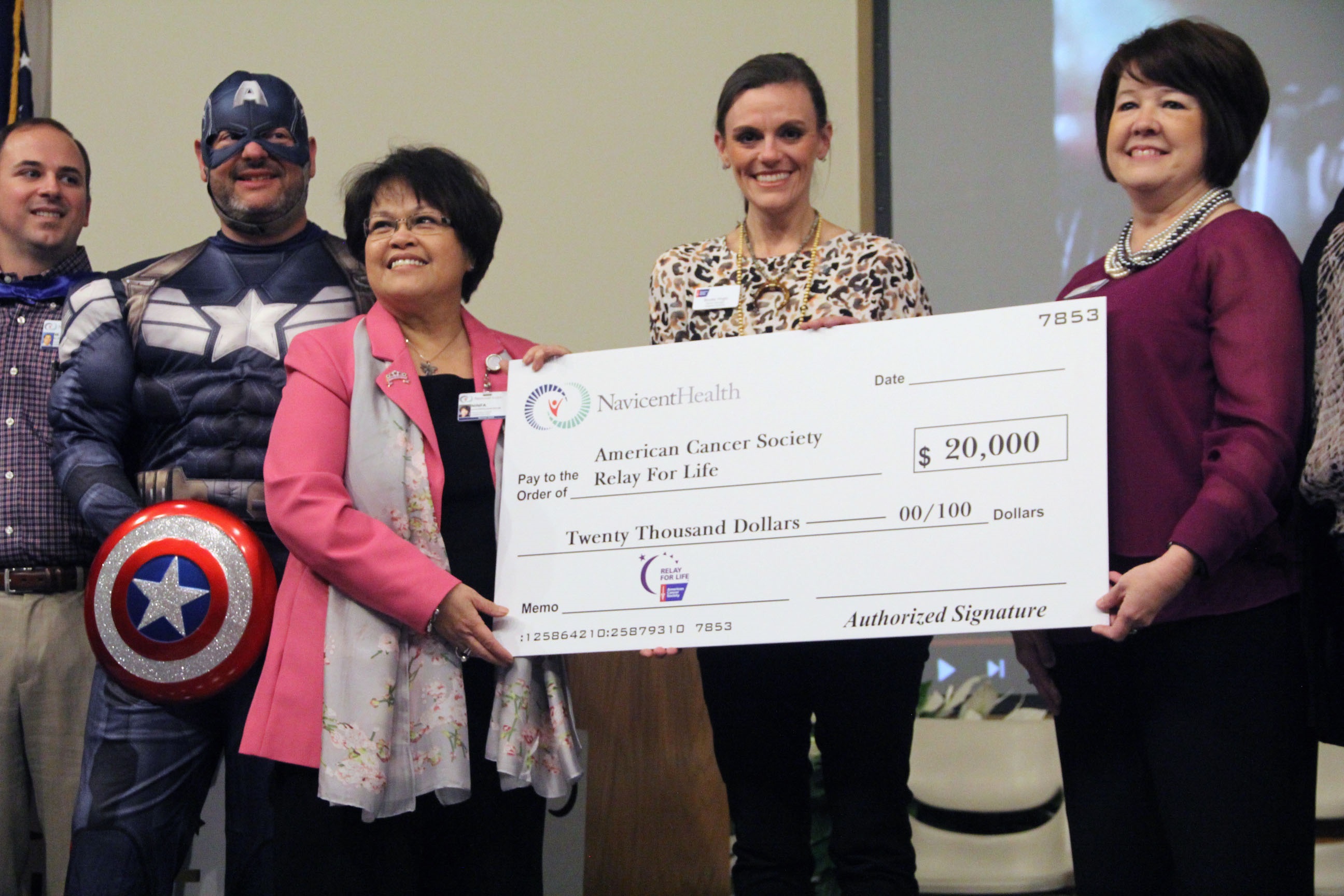 On Friday, April 27, over 2,000 participants and supporters will join together at the annual Relay For Life of Bibb County at Central City Park in Macon to help the American Cancer Society attack cancer from every angle. The event starts at 6:00 pm.
""We are so excited to have Navicent Health as our presenting sponsor. Navicent Health is a great partner in the fight against cancer in Bibb County and very supportive of the programs and service of the American Cancer Society.""- Dr. Mike Burnett, DDS, chair of the Relay for Life of Bibb County.
""Navicent Health is committed to improving the health and wellness of each individual in the communities we serve, and that includes leading the fight against cancer. Together with partners like the American Cancer Society and the countless supporters who will gather for Relay for Life, we can and will win the fight against this disease,"" said Chris Hendry, MD, Executive Vice President and Chief Operating Officer, Navicent Health Enterprise Clinical Systems.
The American Cancer Society is the cause fighting cancer on every front; standing shoulder to shoulder with cancer patients and those supporting them. Funds raised help the American Cancer Society attack cancer in dozens of ways, each of them critical to achieving a world without cancer - from developing breakthrough therapies to building supportive communities, from providing empowering resources to deploying activists to raise awareness.
Founded by Dr. Gordy Klatt in Washington in 1985, the Relay For Life movement unites communities across the globe to celebrate people who have been touched by cancer, remember loved ones lost, and take action for lifesaving change. Symbolizing the battle waged around the clock by those facing cancer, the event can last up to 24 hours and empowers communities to take a stand against cancer.
In addition to the support of the community, Relay For Life of Bibb County is also hugely supported by this year's Presenting sponsor, Navicent Health.
Navicent Health was incorporated on November 17, 1994, as a nonprofit corporation whose primary purpose is to coordinate The Medical Center, Navicent Health and other affiliated entities in their mission of providing a comprehensive continuum of high quality, reasonably priced healthcare services to the region. Navicent Health has 970 beds for medical, surgical, rehabilitation and hospice purposes. The health system includes The Medical Center, Navicent Health, a nationally recognized tertiary teaching hospital; Beverly Knight Olson Children's Hospital, Navicent Health, the region's only dedicated pediatric hospital; Navicent Health Baldwin and Medical Center of Peach County, Navicent Health, both rural hospitals; Rehabilitation Hospital, Navicent Health, the region's oldest and most experienced rehabilitation provider; Pine Pointe, Navicent Health, which provides palliative and hospice care in homes and in its facility; Carlyle Place, Navicent Health, the area's first continuing care retirement community; Navicent Health Foundation, the philanthropic arm of Navicent Health; as well as diagnostic and home care services. For more information, please visit www.navicenthealth.org.
Together, we can beat our biggest rival. Join or donate to the Relay For Life of Bibb County. Visit relayforlife.org/bibbga for more information or to register to be a part of this annual event.
---