Centering Pregnancy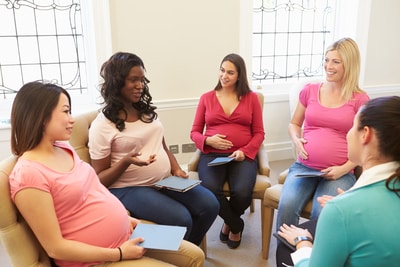 How is Centering Pregnancy different than one-on-one prenatal care in the exam room?
Extended time with provider: Over the course of your pregnancy, women spend 20 hours face-to-face with their provider in Centering, allowing relaxed conversation and an opportunity to really feel heard and understood. In one-on-one care, women spend from two to four hours with their provider over the course of their pregnancy.
Social Support/Community Building: We are learning more and more about the benefits of social support and community in protecting pregnant women and babies from unnecessary stress. In Centering Pregnancy, social support is intentionally fostered and developed. Women tell us the group feels like a circle of friends sharing common concerns and the experience of pregnancy, birth and parenting. Often the relationships developed in group extend past the pregnancy and women become friends.
No waiting: Centering is designed to be respectful of your time. Groups start and stop on time and something is happening continuously.
Education and learning: Centering Pregnancy uses a facilitative leadership style that honors basic principles of adult education. It is not a lecture class format and in no way is the provider group leader viewed as the "teacher." Women learn as much or more from other women in the group and this contributes directly to an increased sense of empowerment. Content that is found in traditional childbirth classes is woven throughout the ten Centering sessions, eliminating the need for additional classes. There is always time to address common concerns of the group members, and women find that they benefit tremendously from the questions of their peers.
Mom's notebook: All Centering patients receive a notebook developed for Centering Pregnancy. The materials in the notebook are used to guide the discussion in facilitated groups. The notebooks become a written record of pregnancy and provide take-home educational content. They often become a keepsake women share with families and their children.
Self-care activities: Women are involved in self-care activities and are supported to learn to read and monitor their own blood pressure, weight gain, gestational age, fetal growth and other components of prenatal care. Involvement in self-care leads to improved health behaviors and a feeling of empowerment.
Two hours seems like a long time for a prenatal visit. What happens during the two hours?
At the start of a Centering Pregnancy session, you will have a brief individual assessment and time with your provider. You will also weigh yourself, check your blood pressure, and monitor your urine for signs of gestational diabetes and preeclampsia. After completing a self-assessment on a pregnancy topic, you will enjoy refreshments and have informal conversation with the other participants while each member meets with the provider individually. When the group "circles up" together, there is facilitated discussion about topics of interest to pregnant women. There is time to practice skills, such and breathing and relaxing and holding and comforting a baby. Groups are lively, interactive, focused on issues important to you and FUN.
I am unable to leave my job for a two-hour appointment.
Two hours can seem like a big commitment for a prenatal appointment. However, keep in mind that there is no waiting for your appointment to start when you arrive you will go right to the Centering room to get started. Your Centering care also includes childbirth education and parenting skills, so you may find it is not necessary to register for separate courses. Finally, you will receive a schedule of all your appointments when you enroll in Centering so that you can make arrangements for time off in advance.
Will I still get my ultrasounds and lab tests that I expect in prenatal care?
Centering Pregnancy is your prenatal care. The nurse midwife leader is responsible to see your care meets all the standards for prenatal care. Labs, prescriptions and ultrasounds will be ordered for you, as appropriate, by your provider. Results of the lab tests and ultrasounds will be shared privately with you.
The reason for and significance of testing and medications is often a topic for group discussion. Women in Centering tell us they better understand lab testing and medications prescribed during pregnancy.
I won't' feel comfortable sharing information about my pregnancy in a group setting.
That's a common concern. Rest assured that there is no pressure to share anything with the group that you are not comfortable sharing. However, most women find that the group quickly feels like a group of friends who are all going through similar things, and the benefits they receive from sharing their experiences are tremendous.
I'm afraid that my provider won't really get to know me in a group setting.
Most women and providers find they get to know one another better through Centering Pregnancy. This is because you spend so much more time together - 20 hours over the course of your pregnancy versus two to four hours in most one-on-one prenatal care. In Centering, you get both private time with your provider to ask questions and talk about your pregnancy, as well as group time that is fun and informative. This provides another dimension to the bond you develop with your provider that most women say is stronger than in traditional care.
How is my privacy protected in a group setting?
We are required to protect your privacy and we take that responsibility seriously. Your first or second prenatal visit, which typically includes a pelvic exam, is completed in the privacy of an exam room. No pelvic exams are done during Centering sessions. The area where belly checks are completed is situated to enhance the feeling of privacy and safety. If you require an exam or have issues that require additional privacy, you will be seen in an exam room outside the Centering appointment.
In addition, at the first group session, each person signs a confidentiality agreement and it is emphasized that participants' particular concerns should not be discussed outside the group setting. Ground rules agreed upon are posted in the group space and reviewed periodically. Although each woman's chart is in the group space for use by the woman and her provider, others do not see the information. The decision to share information with the group is made by each participant; no one ever is pressured to disclose personal concerns.
What is the cost of this type of prenatal care?
Your charges and/or copays for Centering Pregnancy are the same as one-on-one care and are determined by your insurance coverage. If you have questions about your coverage and estimated out-of-pocket expenses, our financial counselors will be happy to discuss this with you.
Can my partner or other support person attend my prenatal groups with me?
Participation of a spouse, partner or other support person is optional, but encouraged! However, many women attend Centering groups by themselves and find the same level of community and connection to the group. We ask that if you bring a support person that you bring the same person to each session for continuity and confidentiality. Support people sit in the circle and fully participate in the activities and discussions.
I have problems with childcare. May I bring my children to my prenatal groups?
Children of any age find two hours in a group boring. Group time is a special time for women and they find children, their own or others, distracting. Two great things about group are that you will have the group schedule for your whole pregnancy and group starts and ends on time. For those reasons, it is easier to make child care arrangements in advance. Also, children do not sign confidentiality agreements and older children cannot be trusted to hold confidential what they may hear. So please, no children.
When do the groups meet?
Groups are formed based on expected month of delivery. Groups meet over six months, from about 16 weeks until middle of the due date month. The groups will meet monthly for four months then every two weeks after that, for a total of 10 sessions. A "baby reunion" is scheduled after everyone has given birth.
When did Centering begin?
Group prenatal care was introduced in the early 90s on the east coast. Findings from the first groups were published by the midwife founder of the model and formalized under the name Centering Pregnancy in the late 90s.
Have there been any studies about the effectiveness of Centering?
Studies have shown that women who participate in Centering Pregnancy are more satisfied with their prenatal care, feel more prepared for birth and for parenting and have higher rates of breastfeeding when they leave the hospital. Other studies have shown a decrease in the risk of preterm birth and higher birth weights for babies who are born premature.
Is Centering Pregnancy appropriate for everyone?
Most women expecting a normal pregnancy can enjoy and benefit from group prenatal care. If risk conditions emerge during pregnancy, those conditions may be managed in group or may require additional visits to specialists. Ask your midwife or physician if Centering is right for you.