Bo's Camp
About Bo's Camp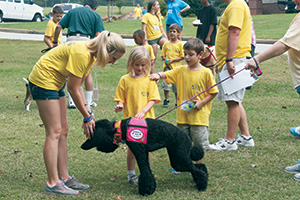 Bo's Camp is a weekend bereavement camp for children and their parents or guardians held at Camp Grace in Roberta, GA. It is a free camp held annually the last weekend in September. This year's camp dates are September 27-29, 2019.
Visit TheCampGrace.com to view the location.
Beverly Knight Olson Children's Hospital, Navicent Health has an active palliative care program called HUGS (Helping Understanding Guiding & Support) which provides support and care for children and their families with chronic medical conditions or life limiting illnesses. Bo's Camp is an outreach service of this program.
The camp name and the spirit of Bo's Camp are based upon the many lives of children and loved ones that have gone too soon. It is because of children like Bo and others that camp fulfills a mission and a need in our region. Bo's Camp offers a safe place for campers to explore their feelings and share experiences with others their age in a professional, compassionate and family-centered environment that will assist in the healing process. Our mission is to offer hope for brighter tomorrows.
Activities
Bo's Camp is a weekend camp where children and their families spend time with others who have also experienced the loss of a loved one. The camp is divided into peer groups accommodating children, adolescents, teenagers and parents/caregivers. Over the course of the weekend, campers will be involved in family activities and age appropriate grief sessions, but also enjoy a variety activities such as arts and crafts and outdoor activities including hiking and a ropes course.
Staff and Volunteers
The staff and volunteers at Bo's Camp are specially trained to work with children and their families who have lost a loved one. Our camp staff includes:
Social Workers
Child Life Therapists
Transition Counselors
Nurses
Chaplains
Physicians
Community Volunteers