Randall L. Hughes
---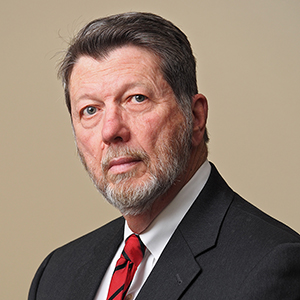 A retired partner of the legal practice Bryan Cave, LLP, Randy Hughes is also a retired practice group leader of the Atlanta Health Care Group. Focusing on healthcare law and litigation, Mr. Hughes spent his career delving into state and federal regulations including HIPAA, Fraud & Abuse and NFP. His specific areas of concentration include not-for-profit hospitals, hospital authorities, certificates of need, medical staff disputes, healthcare reimbursement, regulatory compliance, reviews and claim defense, medical malpractice, personal injury, and insurance.
He continues to practice law and continues his advocacy for the underserved by volunteering with Health Law Partnerships (HELP), Georgia Senior Legal Hotline, Atlanta Legal Aid, and is the progenitor of our own Atrium Health Navicent MedLaw.
Mr. Hughes is a retired Faculty Fellow with the Center for Law, Health & Society and an Adjunct Faculty member with Georgia State University's College of Law, where he taught a course on the regulation of healthcare businesses. In 2012 Georgia State University's College of Law honored Mr. Hughes with the 19th Ben F. Johnson Jr. Public Service Award.
Selected for Best Lawyers in America for Health Care Law, Hughes has co-edited the Georgia Academy of Healthcare Attorneys Health Law Manual. In 2010 he received the State Bar of Georgia's H. Sol Clark Pro Bono Award. He received the Life Time Commitment to Legal Services Award from Atlanta Legal Aid Society, an award that is now named in his honor.
Mr. Hughes and his wife share a common interest in genealogy, and he is also a model train enthusiast. Among his professional and personal interests, he also finds time to walk five to six miles each day to stay healthy.